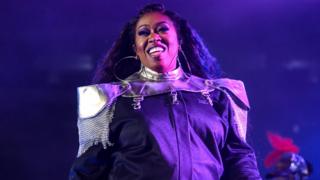 Missy Elliott is almost as well known for her groundbreaking music videos as she is for the songs they accompany.
The rapper, whose real name is Melissa Elliott, is set to receive a prestigious award in recognition of her innovative music videos over the last 25 years.
She will take home the Video Vanguard Award at the MTV VMAs, which has previously gone to Janet Jackson, Beyonce, Kanye West, Pink, Jennifer Lopez and Michael Jackson, who the prize is named after.
For her fans, who have been campaigning for her to receive the Vanguard for several years, the acknowledgement is long overdue.
"Her presence as a full-figured black woman bursting with creativity was the kind of representation I needed growing up," says Leah Sinclair, online editor at The Voice. "I'm sure many little girls like me looked on in awe to see her style, charisma and talent ooze off the screen.
"She embraced the weird and the wonderful, which was a rarity among her equally talented but hyper-sexualised peers."
Elliott went through a particularly successful period in the late 1990s and early 00s, with a positive and playful brand of hip-hop, blending her often humorous lyrics with razor-sharp beats, which she co-produced with her long-term collaborator Timbaland.
She becomes the first female rapper to win the prize. Slate, the pop culture website, has even called for the award to be renamed after her instead of Michael Jackson, who was accused of sexual abuse earlier this year in the documentary Leaving Neverland.
"When you watch a Missy Elliott video, you know you're going to get standout looks," wrote J'na Jefferson in Vibe in an article last year which argued she should have been recognised by MTV long ago. "She has continued to wow us with over-the-top, yet always en vogue style and make-up."
We couldn't possibly rattle through all Missy's videos and outfits here, so here's a select few of the videos, outfits and concepts that have helped secure her the Vanguard prize.
Singing in The Rain
Missy's debut single – The Rain (Supa Dupa Fly) – was released in 1997, and the song's accompanying video played a key part in making the music industry sit up and take notice.
Fortunately, Missy found her own solution for overcoming the bad weather she was rapping about, thanks to the huge shiny black waterproof jumpsuit she wore in the video.
"The fashion and beauty choices within this video were a love letter to classic 90s beauty trends… with a Missy twist," wrote Samantha Callender in Essence.
It marked the start of an important relationship with fashion, which has continued throughout Missy's musical career.
The Rain also featured "plenty of what would come to be staples of Missy's videos: trippy visuals (including her weirdly-distorted lips and eyes) and a smattering of celebrity cameos," noted Daniel Welsh in the Huffington Post.
https://www.bbc.co.uk/news/entertainment-arts-49329520