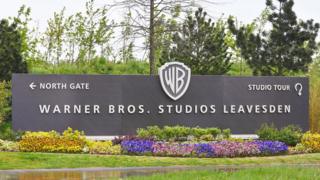 Firefighters are tackling a blaze at one of the stages at Warner Bros studios.
Crews were called to the film studios in Leavesden, Hertfordshire, at 23:29 BST on Wednesday.
The council said the set was not being used at the time and there had been no injuries.
All eight Harry Potter films as well as other movies including James Bond, Fast and Furious and the Mission Impossible franchises have filmed at the studios.
A spokesman for Warner Bros would not comment on the fire other than to confirm it was ongoing.
He said the public studio tours were unaffected and taking place as usual.
Mark Hancock, who lives nearby, said: "My house is only about 200m away from the perimeter fence and we have a clear line of sight over gardens so we managed to see it out one of our windows.
"The smoke went high into the air, and as I watched, the smoke appeared to get thicker, so much so that we could see the flashing lights of the fire engines reflecting off the thick smoke.
"It was still going strong at about 1am and when I woke up this morning it was still smouldering."
He added there was a "strong smell and taste of smoke in the air".
A Hertfordshire Fire and Rescue Service spokesman confirmed 15 crews were sent to the scene when the fire broke out. There are now 18 crews tackling the blaze.
He said an aerial ladder was being used as well as 12 sets of breathing apparatus.
https://www.bbc.co.uk/news/uk-england-beds-bucks-herts-48947675