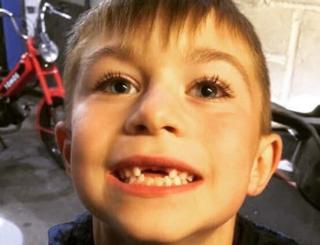 Rescue teams are continuing to search for a six-year-old boy who fell into a river in Kent while fishing.
Lucas Dobson disappeared in the River Stour in Sandwich, close to Richborough Road, at about 13:30 BST on Saturday.
An initial search was called off at 22:00 due to poor light. Rescuers, including specialist police divers, resumed their efforts early on Sunday.
Lucas' aunt Maciee Stanford thanked people for their support and said "we just need to find him".
Kent Fire and Rescue Service said it had been "inundated" with offers of help from volunteers but urged people to stay away from the water.
Rescue teams in canoes have been combing through dense vegetation on the riverbanks.
Police officers have also been using sonar equipment in the search for Lucas.
Ms Stanford said Lucas was wearing a black, white and red T-shirt, and black shorts when he fell between a jetty and a boat.
Three adults – including his father – jumped into the river to try to save him, but Lucas was swept away by the strong current, according to Ms Stanford.
"We appreciate everything everyone has done," she said.
"It's so overwhelming to see our community come together and help us – we could not thank you all enough for everything."
A mile-long exclusion zone has been set up along the river, around the scrapyard at Richborough Road.
Rescuers said this was to prevent any public vessels, such as canoes or boats with engines, entering the search zone.
"This is to allow the water to remain as still as possible and to enable the search and rescue teams to carry out their work," the fire service spokesman said.
The fire service's assistant director Chris Colgan said: "We're all incredibly grateful to everyone who has given everything to try and locate this little boy.
"We have issued some safety advice about keeping clear of the river's edge, staying on the main tracks, working in groups and never alone, and please make sure you are equipped with a phone and torches.
"Our thoughts are with him and his family at this very difficult and emotional time."
Supt Amanda Tillotson, of Kent Police, said: "This is understandably a very difficult and upsetting time for Lucas' family and our officers are continuing to support them."
https://www.bbc.co.uk/news/uk-england-kent-49384979